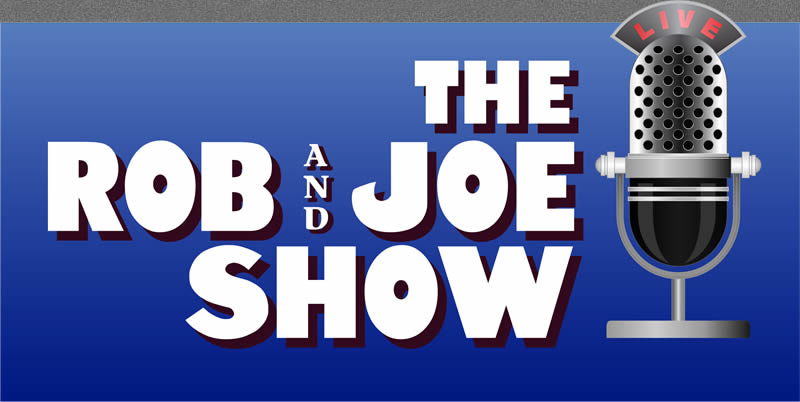 Episode 510 - November 23rd, 2020
Rob and Joe are curious how to approach their Monday night Ravens show and what listeners will be most interested in hearing from them now. Joe was so inspired by Jeremy and his disgusting tale of infestation, that he created his own song. While watching a movie Joe sees an actress who looks familiar, and this leads him to memories of his first R-rated movie experiences. Joe describes a man he saw at the wedding he attended last week who has a history with his wife. Joe hears some news that could potentially effect the scheduled holiday murder mystery. Rob riles-up some 98 Rock listeners during a conversation with a former Ravens' tight end who Joe just happens to be targeting as his new best friend. Someone close to Restivo seems to be holding a grudge. Joe is worried about what Gramps might say to a new guest for Thanksgiving. Joe discusses Katie's taste buds and a hot pepper eating competition.
Episode 509 - November 16th, 2020
Rob wonders if the chat room regulars will lose interest after missing so many weeks of live shows. Joe doesn't like doing the Purple Power Hour after a loss. The show will be recorded at Gramps house in the near future which presents both obstacles and opportunities. J-L addresses the speculation on last week's show. This leads to another A-list debate, this time about Whoopi. Joe is asked to help his father-in-law who just underwent surgery. Even at a superspreader event, Joe manages to shock people with his disregard for the rules. A fan makes Joe uncomfortable. Rob's Dry Bar Comedy special is finally close to a release date. Joe shares a running list he keeps of his outstanding bets. A dumb response to one of Joe's tweets is analyzed. The state wants money returned that they paid to Rob.
Episode 508 - November 9th, 2020
Another song contribution from Jeremy, and his first live appearance on the show, leave much to be desired. Joe and Katie find a surprising piece of Aunt Mom's history while taking inventory of the many years of accumulated possessions in Gramps' house. At the movie theatre comedy show, all the comics tried their hand at Joe's classic closer. Rob discusses some weird situations he discovered while visiting someone in the hospital. Gramps has some more interesting habits that Joe's discovered. With the future of the economy in question, and the current real estate climate, Joe has a strategy for moving forward with he and Katie's living situation. Rob wonders about the future of J-L Cauvin's career-changing impression of the president.
Episode 507 - November 2nd, 2020
Following a successful Halloween show, Rob and Joe lament the loss of murder mystery revenue in 2020. Erik joins the show again, this time to ask him if he landed a coveted feature spot. Rob suggests how Gramps can expand his horizons updating to television streaming technology without fully understanding the mindset of the elder Robinson. This leads to a revisiting of an in-person Rob and Joe Show live performance discussed pre-COVID. Joe sold his house in a matter of days and is temporarily relocating to a place that will provide plenty of content for the show. Robby has trivia about the many fictional movies from the nine seasons of Seinfeld.
Episode 506 - October 26th, 2020
Joe spent some time listening to classic county with Gramps and was surprised by how little his father knew about the music. Rob has an idea for another collaboration between Gramps and Erik, so the talented Mr. Woodworth is called and asked if he's up for the challenge. When a listener has a dream about Robby, it is revealed that he was also a topic on 98 Rock that morning. Attending a cooking class Joe and Katie didn't really learn anything, but one of them did manage to draw a lot attention to himself. The Bergson and Robinson families have become intertwined and Joe is even dreaming about Mac's life. Joe admires Gramps' move when it comes to picking-up the check at a restaurant. Gramps actually has some stories that are off-limits.
Episode 505 - October 26th, 2020

This episode is available to premium content subscribers only.
For more information about how you can hear
Rob and Joe bonus shows visit Patreon.com
Episode 504 - October 20th, 2020
Robby is asked to be more flexible during Rob and Joe's involvement with the unprecedented NFL season and its ever-changing schedule. "Landlord" Dave invites Joe to meet a fan who also happens to be an old high school classmate and Rob joins them. When Joe dines with Gramps at his favorite restaurant, he discovers something he never fully realized about his father. The Jenkins knew the identity of the young punks in their neighborhood based on Joe's description last week. Joe is desperately trying to re-home Aunt Mom's cat, but Gramps keeps sabotaging his efforts. Katie and Joe offered to help some friends who own a venue do a comedy show, but instead these people bypassed the Robinson's. Joe inserts his foot in his mouth again after mishearing a word over the phone while discussing business. Joe does not like to be told a lie, so you'd better not let him catch you in one. While visiting West Virginia, Joe learns of both a salad and a dog breed he'd never heard of. Robby's on another mission targeting a company, and of course there is a long email sent to bolster his cause.
Episode 503 - October 12th, 2020
Joe explains the show's hiatus and mentions some people who chipped-in during a very sorrowful and trying time for the Robinson family. Allison Jenkins has finally received the T-shirt she won six months ago. Another fan makes a request of Joe with a deadline attached and fingers are crossed. Jeremy has produced a jingle for the Purple Power Hour and it's not awful. Joe's was so proud of his colonoscopy that he posted the pictures on his Twitter feed. There is closure to the small cutting board saga when Joe rats-out Katie to the neighbors. Joe visits a brewery and is under the influence of more than just beer.
Episode 502 - October 5th, 2020

This episode is available to premium content subscribers only.
For more information about how you can hear
Rob and Joe bonus shows visit Patreon.com
Episode 501 - September 21st, 2020
Other podcasts are clamoring to piggy-back onto Rob and Joe by becoming the next Gramps story sponsor. Die Laughing returns to the stage with a brand new murder mystery following a 7-month involuntary hiatus. Joe has not planned properly for his colonoscopy and Katie is annoyed by his lack of preparedness. Rob and Joe get notes from the station GM on their first Purple Power Hour. Someone was very upset by Mac's Power Rankings and let Rob and Joe know it. An NFL disagreement reemerges spontaneously and Joe recalls details from the 1980 season and Gramps favorite team. He also remembers a very creative way his father acquired some building materials and fabricated furniture for their home. Joe talks about fast food and highlights a sandwich at a popular chain he visited with Gramps over recently.
Episode 500 - September 15th, 2020
P1 Mac Bergson joins Rob and Joe to renew his power rankings live on the show. While the top spot is as expected, there are plenty of surprises. Following their first Purple Power Hour on 98 Rock, Rob and Joe evaluate the inaugural effort. Rob joins Mickey Cucchiella for a comedy show on September 11th and grudgingly gets roped in to doing extra time for basically no one. Joe offers advice for comedians who want to join the DLP players. Marcus asks Rob to participate in a bit on his WVMT morning show, and Joe worries about the legalities. Joe details the stress of prepping for the pre-game show, and how one listener was making trouble for him. Joe's friend and former landlord is offering a baffling item for sale online. Gramps lost the sponsor for his story segments, and Rob and Joe must speculate about the reason. Rob, Joe and Robby reminisce about the old Baltimore Comedy Factory at Light Street and Lombard and doing shows there with Mickey.
Episode 499 - September 7th, 2020
Once again Rob and Joe brave a barrage of question from the chat room about the murder mystery, hand soap, the quarantine, some hypotheticals, updates on previously covered topics and 98 Rock personnel. Super Bowl picks are submitted from the usual cadre plus some additional guest prognosticators. Jeremy updated his song following Joe's complaints.
Episode 498 - September 7th, 2020

This episode is available to premium content subscribers only.
For more information about how you can hear
Rob and Joe bonus shows visit Patreon.com
Episode 497 - August 31st, 2020
Robby is urging more listeners to become Patreon subscribers and Rob has a brainstorm to give them another incentive. Rob has a crush on an actress who vaguely resembles Katie. Jeremy, grateful for getting some play on the show, still seems completely confused. Joe is back on Twitter and something he posted there rubbed his wife the wrong way. Joe gives a brief review of the new "Bill and Ted" sequel. Joe also has a report on Scott Apple after touching base with him just a few days earlier. Rob and Joe have another broadcasting opportunity, but once again the announcement might be premature. Joe will have a brand new big screen on which to watch the games either way.
Episode 496 - August 24th, 2020
The Woodworth brother's are prolific musicians, but Joe feels one of them consistently falls short. Joe also admits that he's gotten way behind on listening to their podcast Quality Time. Rob and Joe participated in a 98 Rock morning show "happy hour" Zoom call, and while they were pleased with the final product apparently not everyone was. A contingent of DLP representatives travels to Mahoning Township in Pennsylvania for a drive-in movie and the adventure of a lifetime. Erik debuts the single from his upcoming album as promised three weeks ago when Gramps provided his voice for the song live on the show. Joe is not a fan of pranks where the perpetrator is not around to see the result. The likelihood has decreased dramatically that the murder mystery scheduled in just two weeks will actually happen now, and Rob and Joe express their outrage.