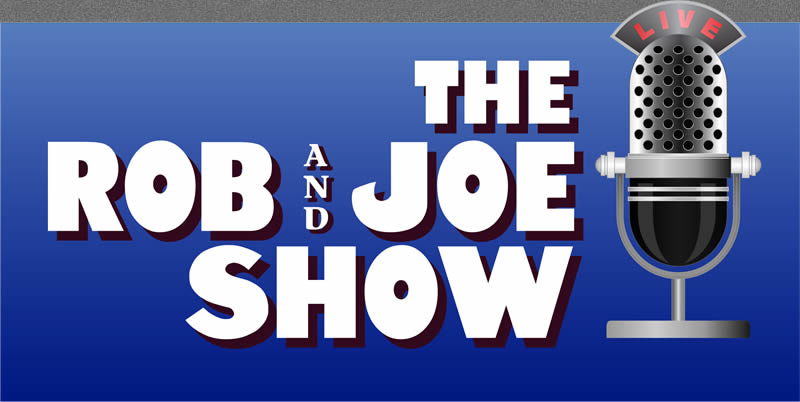 Episode 495 - August 10th, 2020
Gramps is receiving accolades for his appearance on the show, but at Joe's expense. Rob gets praise for his week on 98 Rock and explains why he had such a good time doing the morning show. Joe travels to North Carolina and returns unscathed by the hurricane, the earthquake or his father-in-laws verbal barbs. Joe talks about Katie's reaction to him leaving the front door open upon leaving for their trip. Rob gives the reasons why he never left any surprises in the house for them to find when they returned. Joe responds to the accusation from last week's show that he forgot to deliver the contest winner's prize as promised. Rob takes Joe's advice on his PlayStation Golf game and his worst fears are realized. Joe returns to Twitter on a limited basis in anticipation of the NFL returning and his pre-game gig. Joe speculates about who was having sex on the vacation and how he would be at performing oral favors if he were gay. Michael Chamberlin returns to share his thoughts on Rob's most recent standup comedy release and provides an update on how his life and career have changed during quarantine times.
Episode 494 - August 3rd, 2020
Two very special guests join the show in Joe's absence. Erik Woodworth is participating remotely because his wife would not allow him to go to Joe and Katie's home. When Rob arrived there earlier, he was stunned by what he found before even entering. Gramps lends his voice to the newest murder mystery and a musical project Erik has in the works. Justin invites several friends to be part of a read-through for a new script by an up-and-coming screenwriter. Rob's Drybar comedy special may not be available until one year from the time he recorded it. Erik has suggestions to troll Joe on his own show. This leads to a discussion about Cameo and one celebrity friend of Rob's who is raking in big numbers on the personalized message service. Erik hoped to hear one of Gramps' stories directly from the man himself, and he is not disappointed.
Episode 493 - August 10th, 2020

This episode is available to premium content subscribers only.
For more information about how you can hear
Rob and Joe bonus shows visit Patreon.com
Episode 492 - July 27th, 2020
Appropriately the show begins with a follow-up on Joe's health status. Rob and Joe have both been battling the blues, and the latter had to divorce himself from Twitter as that was a major contribution to his darkened mood. An audience member greets Rob after a show with a far-fetched life story. The meticulous housekeeper returns to detail Katie's car. Rob nails down plans for next week's show while Joe is away on vacation. When a friend and colleague is gifted a World Series ring, Rob wonders if Joe's place in the Ravens' hierarchy would garner the same level of respect. Joe and Katie don't love the new release by Taylor Swift, but Rob is enjoying the spate of ballads on the album. Rob finds himself in a quandary competing with Tawanda in a Playstation game, and Joe offers some advice backed by scientific research.
Episode 491 - July 20th, 2020
Joe is sick, and the obvious question is raised. This leads to planning for the future in the event of his demise. Rob stepped in front of the Facebook firing squad when he asked a legitimate question about students going back to school. Rob is offered an unusual gig in support of a cause and he accepts in without really knowing if he believes in their premise at all. Another gig is going to prevent Rob from enjoying the return of Major League Baseball. After nine years of doing the show, Rob wonders who has given serious consideration to quitting during all that time.
Episode 490 - July 13th, 2020
At the top of the show Rob is offered a gig. With that, a government grant and his Drybar appearance being released soon he should be rolling in dough. Katie hires a cleaning lady and gets far more than she expected. With the Redskins on the verge of retiring their 87-year-old moniker, Rob asks for a review of the best and worst nicknames in sports. Joe has a troll on his Twitter feed who just happens to be his brother. Rob and Tawanda play a game that reveals secret desires, including who each would like as a neighbor.
Episode 489 - June 13th, 2020

This episode is available to premium content subscribers only.
For more information about how you can hear
Rob and Joe bonus shows visit Patreon.com
Episode 488 - July 6th, 2020
A pre-show snack causes Joe to reminisce about the Christmas stocking stuffers when he and Robby were children. A name in the chat room leads Rob in inquire about a name change for Washington's NFL team. Rob has several television recommendation for music lovers. A request from Erik whips Gramps into a frenzy. And Joe is stunned that he won't admit that he may have forgotten some important details from a series of conversations with Robby. While on Summer vacation, Joe likes to indulge in a few fruity cocktails. Tawanda takes a shot a Rob on Instagram during the show. Rob talks about his busy 4th of July weekend; the most he's left the house in months. Joe and Katie attempt to sedate their dog so the fireworks won't frighten him. A professor/political columnist with a large Twitter footprint is either not very bright or simply trolling J-L.
Episode 487 - June 22nd, 2020
Katie's experience at the nail salon sparks Rob to pose a hypothetical, but Joe won't exactly cooperate. Gramps is celebrated for Father's Day, but not without some challenges. Joe's oldest son is getting set-up with a young lady by someone in the family. This leads Rob to suggest an idea for their first date, and make an odd claim about his own dating history. Rob has a frightening incident with an audience member at the first live stand-up show in months. Possible co-hosts are considered to replace Joe while he's away on vacation in August, but how that person will behave in his house unattended is a major factor. Rob declares his surprising pick for "best singer alive" and recommends a documentary about him.
Episode 486 - June 15th, 2020
Upon reviewing last week's show and the names in chat, Rob and Joe pick their favorite Prince albums. Robby explains why Gramps is not in chat and when he's called for further explanation, Rob and Joe hear a surprising revelation that they were not expecting. Rob and Joe are both asked to be part of separate attempts to present 'live' comedy. Joe sets a new record and manages to alienate his new neighbors before they've even moved into the house. Rob lobbied to get his comedy album played on satellite radio and he compares notes with Joe who had a somewhat different experience with this platform. Joe defend J-L Cauvin against some recent criticism. A friend and fellow broadcaster is starting his own podcast, and Rob and Joe wonder if they're interesting enough to be guests. Joe retells the story of his brush with the 'voice of the Washington Redskins'. Rob and Joe review the latest binge-worthy television viewing and Robby's thoughts on the new Bachelor.
Episode 485 - June 8th, 2020
When his 72 year old neighbor is referenced in the chat room, Joe recalls a recent occasion when she requested he play a song. Rob is turned on to a singer whose boyfriend is coincidentally in the news for just having lost his job. Rob, Joe and Robby pick their lineup for an all-time dream Saturday Night Live show. Katie recovers a repressed memory that leaves Joe feeling sick to his stomach. Joe's habit of obsessively deleting emails gets him in hot water on his anniversary.
Episode 484 - June 8th, 2020

This episode is available to premium content subscribers only.
For more information about how you can hear
Rob and Joe bonus shows visit Patreon.com
Episode 483 - May 25th, 2020
The show just completed its second 'all-star' Zoom call for Patreon subscribers. Robby's new neighbors are being very loud right outside of his studio during the show. Joe was socializing with friends all Memorial Day weekend, and Rob wonders why he wasn't invited to one party in particular. Die Laughing Productions has shows scheduled in June, so Rob and Joe discuss if and how those might take place. Rob and Joe are surprised by both the popularity and the interesting dynamic of the charity celebrity golf match played over the weekend. The quarantine might have a silver lining for Joe personally during the upcoming NFL season. With the sudden rise of the virtual comedy show, Rob and Joe have ideas about what works, what doesn't and how they might be improved. And because of these shows, a new murder mystery idea has been floated. Joe has a few new "lists of fours" to ponder from his posts on Twitter this week.
Episode 482 - May 18th, 2020
Joe spends some time in Ocean City with friends and gets called out for improper social distancing. Rob makes progress on his government income assistance. His trust is betrayed when Joe allows Rob access to the studio while he and Katie are at the beach. Robby receives confirmation that the number one participant on Joe's wish list has committed to the next SuperZoom. Joe is antagonizing people on Twitter and gets blocked by one fan. Joe brings to the show one hotly-debated poll he posted. Following the passing of the beloved actor Fred Willard, Joe reminisces about interviewing him in 2008. This leads to Rob revealing how he upset an actress during an interview and Joe telling some locker room gossip he was told by a now ex-Raven. Rob learned some inside showbiz and divorce details from his celebrity friend. A new film project from that comedian spawns a conversation about the most famous animated and comic strip animals. While Joe learns from a friend that cold showers are good for you, he declines to start the practice. Rob competes in another Kumite, this time for a corporate gig.
Episode 481 - May 11th, 2020
Joe is going to get serious about exercising, and he'd better since Katie is making a big sacrifice to give him space for the equipment in the house. This dovetails into a discussion about yard sales and how Joe once alienated neighbors over some junk he was selling. Katie is appalled, but she is seeing evidence of this type of behavior all the time, and talks about the most recent incident. Joe and Robby describe the problem all the Robinson men have with their ears. On Mother's Day Gramps inches his way inside the six foot bubble, Joe shares with the in-laws a story already very familiar to the listeners and Rob hugs his mom. An appearance on one Zoom-based comedy gig landed Rob another. Restivo has yet another spurious business scheme. A wily hairdresser seizes the quarantine as her opportunity to finally get rid of Robby as a customer. Joe has a Zoom meeting with a future NFL hall-of-famer. This week's picks on what to stream and what not to stream from Joe also has Robby's endorsement.