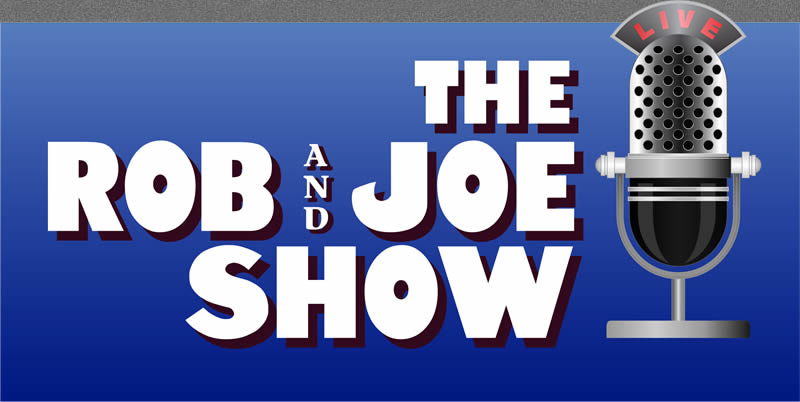 Episode 422 - May 13th, 2019
Joe, the consummate professional broadcaster, eats Chinese food on the air. The final arrangements for the trip/wedding don't really worry Joe. Rob has car trouble and can't seem to get out of his own correcting the problem. Rob and Joe both have to complete a quiz on harassment in the workplace for the radio station. They wonder how Gramps would fare in today's environment, and role play a job interview with Joe as his father. Joe and Katie are receiving wedding gifts from listeners after mentioning their registry on the show. Always looking to improve his tanning bed results, Joe tries something new and it affects more than his pigment. Rob reunites with his old friend Tommy Davidson and the legend of their history on the road together has grown tall. Robby has more questions for Katie about the dress code in Mexico while, meanwhile she's creating a list in her head of all the things that could possibly go wrong. Rob and Joe make an announcement regarding a return to Vegas this Fall.
Episode 421 - May 6th, 2019
It took Joe many years to master the tanning bed all-over tan, but he has it down to a science just in time for the trip to Mexico. Rob gets booked to co-host the morning show when Joe doesn't respond quickly enough. Still Rob's lean gig calendar, and anticipated lack of income, are weighing heavily on his mind. Returning to teaching is not a viable option for Rob now, and Joe believes the driver education industry is nonsense. Rob unintentionally insults several audience members at the same stand-up show. Joe misses out on a social event because of a scheduling conflict and a hammered neighbor. A Die Laughing colleague is doing community theater. Joe and Katie attend the play to show support, but don't think much of the playwright. Marcus, an expert in this area, lends insight and defends the piece. Rob and Joe wonder about the Vegas odds for who will ultimately sit on The Iron Throne. Joe returns for another appearance on Tommy's Laughfinder podcast. Joe's neighbors have a daughter with a familiar name and a fun wedding gift for the soon-to-be bride and groom. Rob, once again confused about wedding etiquette, is introduced to Joe and Katie's gift registry.