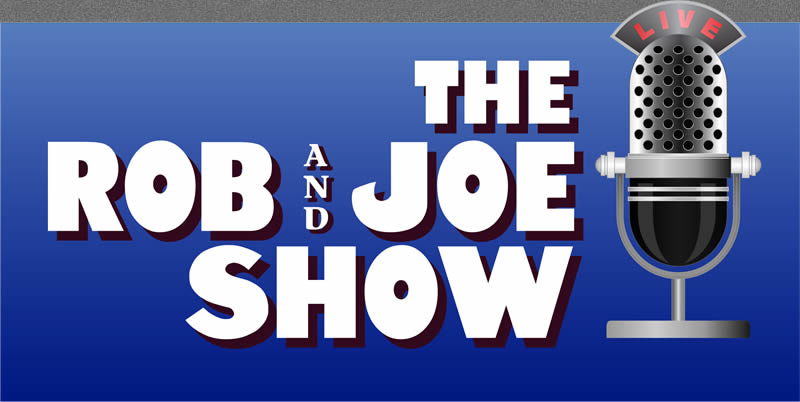 Episode 409 - March 4th, 2019
Joe has a loud, confrontational encounter in a movie theater. The new 90s murder mystery debuted in Annapolis, and Gramps assembled an interesting group for dinner before the show. Someone close to the show posts a review on iTunes flattering (or perhaps mocking) Robby. Joe finds himself in a lose-lose situation when a friend decides to write her own murder mystery for Die Laughing Productions. Last week the troupe did a show for the most noisy, drunk audience ever. Marcus has a new radio moniker and, in related news, a new gig. Joe gets questioned about something he revealed on the bonus show that is now public knowledge. Rob wonders about the legacy of Michael Jackson in light of the new documentary.
Episode 408 - February 18th, 2019
Following a Sunday rehearsal for the newest murder mystery, Rob and Joe decide to record some of the show a day early. Erik Woodworth and Oscar also join the show. Erik loved the phone call on last week's show, and has something new to share from the mind of Chris Restivo. The man behind Five Plated Coasters writes the show with regrets and news about the future of the business. Rob asks Joe to share his feelings about Erik's brother Jeremy. Rob expresses concern that Erik will exhibit some of his outlandish behavior at a new, and more conservative, venue for the murder mystery. Joe and Katie break down their thoughts on the Oscar nominees with movie critic Mara Reinstein. Rob makes bad decision after bad decision while doing a bit during intermission at the Valentine's Day murder mystery. This turns into a conversation about "accidental" texts. Rob continues to have trouble with greeting cards when he goes shopping for Valentine's Day. Joe plans a romantic day starting with flowers from Target and later an over-packed restaurant. Now he's struggling over what to get for her birthday.
Episode 407 - February 11th, 2019
Joe is making Valentines Day plans, but Rob is not. Die Laughing Productions celebrated Justin Schlegel's birthday by presenting him with a very special card. Show fixated on some older couples who seemed to be uneasy with some of the blue humor in the murder mystery show over the weekend. A local comic seems to fancy himself a musician; or does he? A Rob and Joe fan is selling "Five Plated" products and guess who is not happy about it. Rob forces himself to finish the two movies he wasn't enjoying, and episode #404 of the show from when he was absent. Joe and Rob have created the wrong culture when it comes to Die Laughing Production and can't go back now. Rob's two best friends meet each other for the first time. Rob complains about the Grammys. Joe discusses music today versus what was popular when he was young a long, long time ago.
Episode 406 - February 11th, 2019

This episode is available to premium content subscribers only.
For more information about how you can hear
Rob and Joe bonus shows visit Patreon.com