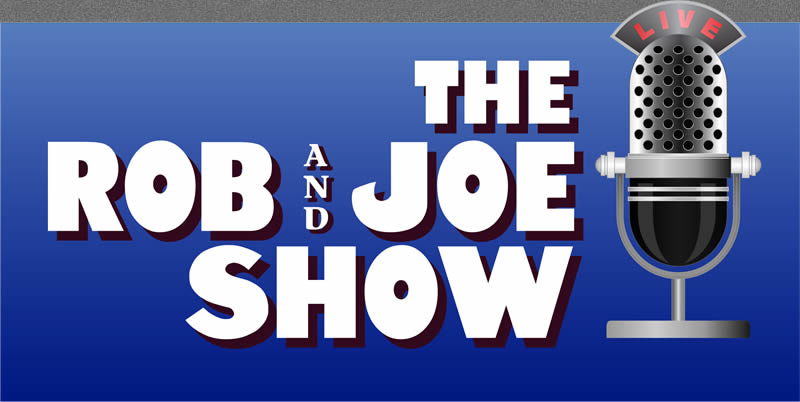 Episode 435- August 5th, 2019
Rob's new t-shirt leads to Joe talking about a coffee stain on his car. Robby appears to be trolling Joe on Twitter. Joe second-guesses himself about how to bathe his dog. While 98 Rock/WBAL listeners await an announcement about who will be the regular sports anchor, Joe continues to help fill the slot and find his way. No one, including Rob, knows what to expect whenever they perform at the Shriners Temple. When Katie leaves town, Joe takes a well-deserved extreme rest day. There's no more relaxing for Joe when he is forced to deal with old hornets nest. Rob poses a disturbing hypothetical questions.
Episode 434- July 29th, 2019
Technical issues still plague the show, including the show notes on Rob's computer which have suddenly reverted to topics from almost a year ago. Beyond a back yard for the dog, Joe lists the other features they'll need in a new house. A listener suggests a topic for the show. Joe feels slighted when he's not invited to a station event. Then covering his first Ravens practice, he struggles to find his way. Rob has a new phrase he uses to be both dismissive and hilarious with Tawanda, Joe yearns for the day he had something similar with his bride. Katie is attending a friend's bachelorette party out of town and Joe is setting some ground rules.
Episode 433- July 22nd, 2019
Some fluky technical issues prevent Rob and Joe from doing a live show, and almost keep them from doing a show at all. Rob has a lot of problems flying to and from Nebraska. Rob's travel dilemma got him back to DC too late to make the murder mystery on Sunday night, but that was the just the beginning (and the least) of the problems getting that show off the ground. A possible opportunity arises once again, and Joe asserts himself quickly, when a change at the radio station is announced. Joe has strong opinions about the new trailer for the Top Gun sequel and Mister Rogers' Neighborhood.
Episode 432- July 15th, 2019
A "fan" gives Rob and Joe a backhanded compliment for their time subbing on afternoon drive last week. Rob makes a big splash in the Lincoln, Nebraska radio pool promoting himself. Rob encounters a successful actor/comedian with an interesting business model. A lot of people have thoughts about what Joe's Instagram username should be. Joe is lending both financial and moral support to Jeremy's film project, and he appears to be the only one. Katie receives an album of photos from their destination wedding and is distraught over one photo that taints the whole book. Gramps sent two stories to Rob this week, and this time he may have gone too far. Katie has legitimate concerns that Joe may eventually have experiences comparable to his father. Joe and Katie have made a huge life decision based solely on their dog. Joe discusses his aversion to yard work based on childhood trauma. Joe closes the show with his reviews of 'Stranger Things 3' and 'Yesterday'. WARNING SPOILERS!
Episode 431- July 8th, 2019
Gramps and the other regular live listeners appear to love the new chat room. Rob gets a reality check on Tawanda's opinion of his comedy. While subbing on afternoon drive this week, Rob puts his foot squarely in his mouth off the air. Robby needles Joe about arguing on Twitter even though he knows nothing about the disagreement. Joe and Katie love to crap on Rob when they're playing Cards Against Humanity. At the same party, an innocent bystander gets a barrage of insults hurled at him. Rob and Joe talk to the documentarian OKI again about his struggles and ultimate triumph over the Keyser Soze of comedy. Katie's already shopping for another wedding dress. Joe is stunned when Katie announces suddenly that she plans to resume an old hobby, and then immediately leaves the house by herself to go pursue it. Joe follows in Gramps footsteps and joins Instagram for similar reason.
Episode 430- July 1st, 2019
With no live show and chat this week, Rob and Joe worry about Gramps state of mind. Joe takes steps to deal with his worsening memory issues. Erik, once again, goes over the line when it comes to his interaction with the murder mystery audience. "The Most Hated Man in Comedy" documentary is reposted after some self-censorship by the filmmaker. Restivo is working on another new impression, this one specifically for the Rob and Joe fans. Katie is putting the pressure on Joe to get the ring fixed. Rob annoys Katie when he appears to know Joe's schedule better than she does. Joe has impulsively said the wrong thing to a neighbor again, but this time behind Katie's back. A young couple Joe befriended on the honeymoon have become listeners and potential restaurateurs.
Episode 429 - July 1st, 2019

This episode is available to premium content subscribers only.
For more information about how you can hear
Rob and Joe bonus shows visit Patreon.com
Episode 428 - June 24th, 2019
Rob has a good time with some male strippers. The show itself turned out great in spite of some difficulties surrounding the murder mystery over the weekend in Winchester. Rob and Joe talk to a young filmmaker who has created a documentary about a certain notorious figure in the comedy world who has not been discussed on the show in some time. Joe discusses all the hoopla surrounding the retirement of a local sportscaster. Some follow-up is necessary regarding the neighbor's gift and the fallout from that discussion on the last episode. Joe is very concerned that he is becoming more and more forgetful. The live chat interface must be replaced, and consequently Gramps is in a panic.
Episode 427 - June 17th, 2019
Joe can't get the erroneous engraving removed from his ring until another obstacle is overcome. Katie is angry about the treatment of yet another neighbor, so Joe once again tries to resolve everything by calling them on the air. Rob wants to make it a regular segment determining which celebrities are A-list. Joe's Twitter was causing trouble in the marriage during the honeymoon, and Katie accuses him of not being romantic. Joe wonders about an antisocial quirk Rob has. Gramps' denial of the wash cloth incident in Mexico will not stand, so Joe explores it again. Chris Restivo records bumpers for the show debuting his newest impression. Rob has a string of crappy gigs including a star-studded fundraiser for the USO. Joe is confused by a product he sees in Five Below.
Episode 426 - June 10th, 2019
Rob admits that he made a mistake contradicting Joe on a previous episode. Rob and Joe commiserate over the pre-wedding photography schedule. Joe learns that nothing is free when he is given a gift with a hidden surprise. On the honeymoon, just must seek out new friends to stave off boredom. Robby dressed appropriately for the wedding, but shed the outfit as quickly as he possibly could. Classic Gramps was on display several times during the trip. Joe and Katie seem unsure about how many time they had intercourse during there time in Mexico. Erik Woodworth was very popular with everyone at the resort except one person. Joe finds a penny, but not just any penny. Rob feels he slighted Joe in his Best Man Speech, and the two leading up to his seemed more like a roast. Joe attends a meeting with the wedding planner and learns too much. Joe is proven wrong when Katie and Frank's big dance number at the reception actually occurs. Joe spots another vacationer with a startling hair situation. Joe and Katie pay tribute to Chris Restivo with personalized hats and a new game. Rob guests on Doug Benson's podcast again with an impressive line-up of celebrity phone-a-friend lifelines.
Joe and Katie bring a heated debate about Jeff Goldblum to the show.
Episode 425 - June 10th, 2019

This episode is available to premium content subscribers only.
For more information about how you can hear
Rob and Joe bonus shows visit Patreon.com
Episode 424 - May 27th, 2019
Joe is getting his body in shape for the wedding, but he's not getting as carried away with his workout as Justin. Erik Woodworth adds an outrageous surprise ending to the murder mystery on Saturday night. Rob and Joe watch Tommy crush hard at the stand-up show the night before, and they both doubt that they could have followed him. At another venue, Rob works hard to win-over an audience and finish strong, but in the end not everyone was convinced. Joe must lie to keep Gramps' secret. Rob and Joe are both made slaves to the wedding photographer's schedule by Katie. Rob wonders if Joe and Katie will become bored in Mexico after all the friends and family leave. But Katie makes her own fun; she's already messing with other travelers on a forum for the resort.
Episode 423 - May 20th, 2019
Katie is on top of every last detail with just nine days to go until they leave for Mexico. Someone close to Joe and Katie is really irresponsible when it comes to filling the gas tank. His future father-in-law plans a golf trip annually, and Joe claims he's never been invited. Katie and Joe are at odds over a couple of interactions with their neighbors. Joe then goes to great lengths to prove to Katie that she's wrong about one situation. Rob tries on Joe's wedding socks which leads to a conversation, and a lot of hypothetical questions, about feet. Rob wonders why a colleague received mixed reactions to a solid new joke. Joe and Katie love to champion "fresh" movies that may not be on most people's radar. Following the conclusion of the TV show, everyone assigns their final grades for Game of Thrones.
Episode 422 - May 13th, 2019
Joe, the consummate professional broadcaster, eats Chinese food on the air. The final arrangements for the trip/wedding don't really worry Joe. Rob has car trouble and can't seem to get out of his own correcting the problem. Rob and Joe both have to complete a quiz on harassment in the workplace for the radio station. They wonder how Gramps would fare in today's environment, and role play a job interview with Joe as his father. Joe and Katie are receiving wedding gifts from listeners after mentioning their registry on the show. Always looking to improve his tanning bed results, Joe tries something new and it affects more than his pigment. Rob reunites with his old friend Tommy Davidson and the legend of their history on the road together has grown tall. Robby has more questions for Katie about the dress code in Mexico while, meanwhile she's creating a list in her head of all the things that could possibly go wrong. Rob and Joe make an announcement regarding a return to Vegas this Fall.
Episode 421 - May 6th, 2019
It took Joe many years to master the tanning bed all-over tan, but he has it down to a science just in time for the trip to Mexico. Rob gets booked to co-host the morning show when Joe doesn't respond quickly enough. Still Rob's lean gig calendar, and anticipated lack of income, are weighing heavily on his mind. Returning to teaching is not a viable option for Rob now, and Joe believes the driver education industry is nonsense. Rob unintentionally insults several audience members at the same stand-up show. Joe misses out on a social event because of a scheduling conflict and a hammered neighbor. A Die Laughing colleague is doing community theater. Joe and Katie attend the play to show support, but don't think much of the playwright. Marcus, an expert in this area, lends insight and defends the piece. Rob and Joe wonder about the Vegas odds for who will ultimately sit on The Iron Throne. Joe returns for another appearance on Tommy's Laughfinder podcast. Joe's neighbors have a daughter with a familiar name and a fun wedding gift for the soon-to-be bride and groom. Rob, once again confused about wedding etiquette, is introduced to Joe and Katie's gift registry.