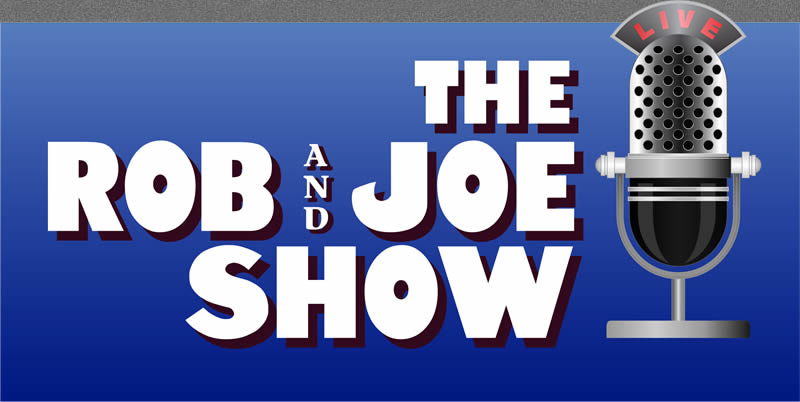 Episode 395 - December 3rd, 2018
Joe details how he celebrated his birthday which included some classic Gramps on display, and an activity Robby would have enjoyed had he been invited. During his time performing in Connecticut, Rob nearly commits to an all TGIFridays diet. While planning a Christmas light caper, Joe must point out the hypocrisy of one person who voices moral objections to the criminal plot. Joe gives his thoughts on some of the films he's seen in theaters recently. Marcus is confronted about his lack of communication with another person close to the show. Joe and Katie encounter a racial stereotype at the movies and have completely different reactions to the situation. Joe is confronted for a running joke he's been making behind someone's back. Joe critiques Katie's tree decorating and she doesn't take the feedback very well.
Episode 394 - November 26th, 2018
Joe finds himself at odds with several members of the Peusch family at the same time. Frank is called to get some clarification on why Joe was excluded from an important family tradition. Meanwhile there is trouble among the Peusch women and some holiday festivities are in jeopardy. Joe's pre-game partner makes him feel underdressed for the broadcast on RavensWalk. There is yet another revelation about Joe and Katie's bedroom behavior. Joe's birthday is this weekend and he talks about his plans for (and his feelings about) the big 5-0. Gramps' brother reaches out to Joe for a plug. Rob and Joe reveal the title of their next murder mystery. Joe revisits wedding hashtags, which leads to brainstorming about the details of Rob's wedding. Joe repeats a prediction he highlighted on 98Rock for the podcast listeners.
Episode 393 - November 19th, 2018
Robby prematurely alerted Justin to a potential problem at Saturday's murder mystery performance. Justin must reluctantly apologize to an audience member who was offended. Everyone seems to love Erik's cover of Leonard Cohen's 'Hallelujah' except Gramps. The Real Housewives of Potomac keep bumping into Rob at comedy shows. Rob feels silly after hearing a 25 year old song and asking if its new. Rob starts to panic when he thinks he might not make his connecting flight to Portland and miss his gig. Rob learns how weird Portlanders are. Choosing to sit at the restaurant bar can be an adventure according to Joe and Katie who even create a strategy for dealing with smartass bartenders. Katie considers the possibility that a U.S. presidential candidate's wife at some point cast her vote for his opponent. It seems that no one can contain their tears watching "The Boy and The Piano" Christmas spot starring Elton John. Joe will risk being burned alive for a tasty Thanksgiving main course.
Episode 392 - November 12th, 2018
Joe visited a hypnotist he found on the web weeks ago, but forgot to tell the story on the show. With the Ravens on a bye, and the Skins coming off a rough week, Joe takes a break from football and spends his weekend at the movies. Joe makes Katie angry with his lack of willingness to keep hope alive for the Ravens fans. Michael Chamberlin badgers Joe via email about his movie viewing. The death of Stan Lee has everyone discussing his impact on the world. Rob and Joe wonder who is still reading comic books and reaches out to two experts. Joe and Erik praise Tenacious D's latest tour after seeing them perform last week. J-L Cauvin has stopped doing his podcast and everyone is making their guesses as to when and if he will return to it. Katie wakes up to the reality of her future as caretaker for a senior citizen.
Episode 391 - November 5th, 2018
Rob, Joe and Robby return with tales from the exciting time in Sin City. Votes are cast on where the TMOS convention should be held in 2019. On a quest for a great Beef Wellington in Las Vegas, Rob and Tawanda meet a celebrity chef. An outing to the Heart Attack Grill in downtown leaves Robby in an unenviable position. At Joe's hotel, there are plenty of high jinks at the blackjack table, including some fake news about a celebrity sighting. Rideshare was the popular way to get around the city, and everyone has a tale to contribute on this topic. Justin an Erik traveled together, and the pair can't help but encourage each other's outrageous antics. Rob resurrects a bit created for Joe's nighttime radio show eleven years ago. Joe rushes home to do Raven's pregame and, although he's drained from the cross-county trip, somehow manages to not make a mistake this Sunday.