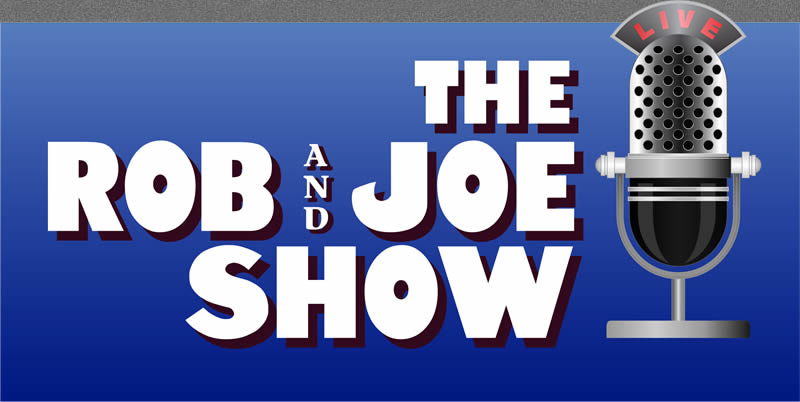 Episode 444 - September 30th, 2019
Marcus suffered a couple of injuries during his absence, one of them to a very sensitive part of the body. Joe accidentally picks-up when Chris Restivo calls him with an update on the shirt. He also reaches out to Rob to ask if he's aware of all his huge show business opportunities. Rob gives Joe Blue Apron as a gift, so he decides to complete the sign-up process during the show. Katie isn't happy when she discovers Joe did this without her. Following the petsitting story on last week's show, Joe has a conversation with his neighbors off the air and one of them did not like the segment. Katie talks about the drama surrounding her very recent exit from Under Armour. Rob's been offered a new potentially lucrative gig, but he can't use practically any of his existing material.
Episode 443 - September 23rd, 2019
Rob frantically searches for his wallet after Robby informs him about his own bank account being hacked. Joe is creeping around the radio station on Sunday morning, or so it might appear to one of his colleagues working in the studio. Rob was not the only one who misplaced something, and when his neighbors are involved Joe can never seem to get out of his own way. The show's social media is flooded with feedback on last week's fast casual burger disagreement. Joe and Katie review the new theatrical release "Hustlers". SPOILER ALERT. Robby saw the movie they should have picked to see instead. Joe recalls a story about asking a girl on a date to see "Rambo: First Blood Pt. II". Once again, Joe creates tension with Katie when he mentions how she binges shows ahead of him. Rob and Joe argue over the believability of "Unbelievable" on Netflix.
Episode 442 - September 16th, 2019
Rob receives another unsolicited email from someone who wants to be part of DLP. Joe is going to get his Five Plated sign back from Winchester in a few weeks, but Katie may not allow it to be displayed in the house. Joe reveals whether or not the 98 Rock "fan" that he spotted at a baby shower returned to the Raven's broadcast area. Chris produces yet another one of his impressionist bits and sends it to Rob, who seems to be the only one (besides Erik) who actually thinks its worthwhile. A very contested debate on Twitter leads Rob to pose this same question about fast food on the show.
Episode 441 - September 16th, 2019
Rob, Joe and Robby apologize and explain what happened last week. Rob would like to do a third edition of the Scott Apple game, but that would put Joe in a weird position. Joe attends his rich buddy's party and is disappointed by the number of people he actually knows in attendance. Rob couldn't go to the party because he was in Syracuse where he met a comedian whose act and claims to fame were equally outrageous. Rob heard Joe's solo pre-game hour on the way back from New York, so they compare notes. Joe pulls back the curtain on the glamorous life of a sports broadcaster. Rob is still unsure about his appearance on Laughfinder after the fact, but he feels he was good at rolling the die.
Episode 440 - September 9th, 2019

This episode is available to premium content subscribers only.
For more information about how you can hear
Rob and Joe bonus shows visit Patreon.com
Episode 439 - September 2nd, 2019
The Die Laughing crew makes a trip to Virginia Beach. Joe works in the FunnyBone sound booth there and walks a mile in Robby's shoes. An audience member playing a role gets confused by stage direction. Joe is a big fan of karaoke if you bring some outstanding comedic entertainers with you to participate. First responders race to the hotel, where several of the cast is staying, because of an incident in their room. Joe must appear in traffic court and regrets not drawing on some constitutional law knowledge when he had the chance. Everyone weighs-in with this year's Super Bowl predictions. Joe needs help with his A.D.D.
Episode 438 - August 26th, 2019
Joe starts the show by repeating a punchline that hits close to home. Jeff Goldblum is inching toward A-list status with his new Disney deal. Joe gives his review of a new movie starring a golden retriever. SPOILER ALERT! Rob has a Gramps story, but this one he heard at home, not from the man himself. Katie and Joe spent a day in Hershey and couldn't handle the rollercoasters nor believe the number of ugly people. A major beef that Katie has with Joe spills over on to the show. SNL announces their lineup for season 45 and Rob points to a couple of special nights, for one in particular he's sure Katie will want to set the DVR. Rob learns a lot about promotion and the definition of "curse word" from his black comedy colleagues. An inferior product and poor customer service do not deter Joe and Erik from being loyal customers to Five Plated Clothing. Although they both look forward to it, neither Rob nor Joe has tried the new Popeye's sandwich. Katie has major concerns about her rapidly aging husband. Die Laughing seems to be gaining a following finally in Annapolis, but Joe worries when he sees that the crowd skews older. Joe spots someone familiar at a baby shower who doesn't really want to admit to being a "fan".
Episode 437 - August 12th, 2019
A suspicious story involving Alex Rodriguez is in the news. It seems that Joe's not allowed to interview Ray Lewis. Rob believes that some of the Ravens must know who Joe is. He disagrees and then comments on Antonio Brown's helmet issue and personal safety. Rob is angry at a venue that canceled his spot for the upcoming weekend, and so is one fan/contributor who bought tickets. While performing with John Witherspoon at the DC Improv, Rob must play defense for the legend when a suspicious woman wants a formal introduction. When Joe's Five Plated T-Shirt is finally finished, he realizes that Chris has pulled a bait and switch. The former show announcer shares celebrity gossip with Rob. The Die Laughing cast was spoiled over the weekend with a luxury Airbnb and enormous pizza pies. Joe discovers that two of the dancers in the troupe are complaining about one of their numbers.
Episode 436 - August 12th, 2019

This episode is available to premium content subscribers only.
For more information about how you can hear
Rob and Joe bonus shows visit Patreon.com