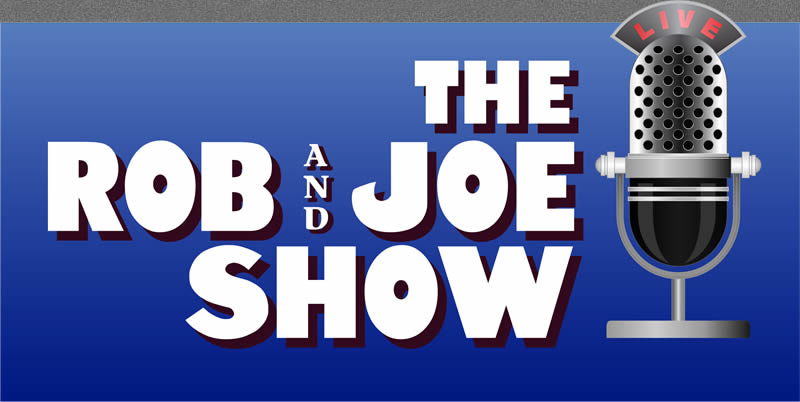 Episode 515 - December 28th, 2020
With Joe subbing for Justin all week on the morning show, Gramps was a big topic of conversation on 98 Rock. The Robinsons had a small Christmas celebration with some of the family absent due to Covid fears. Christmas gifts were abundant, but some people received a lot more of the wealth than others. Joe is spending New Year's at the family's condo in Ocean City which is in the midst of being redecorated. Joe had to complete a frightening task as part of a game. In response to last week's show, J-L demonstrates that he can be unbiased when it comes to the governor of New York. Rob gets invited to a New Year's Eve party by a fan. Joe enjoys watching some Brown's fan disappointment in their team. Katie joins to show to defend herself as she seems to be controlling her husbands wardrobe.
Episode 514 - December 21st, 2020
Everyone associated with the show is admiring their Christmas card from Mac Bergson, and one person actually received two. Joe gets admonished unfairly by someone on the 98 Rock morning show. Joe credits Rob on the air for writing a Ravens Game Day segment, but Rob thinks there is an ulterior motive. A horrible show from the DC Universe is Joe's new binge addiction. A new HBO documentary about the Bee Gees has Joe feeling enraged. Shockingly Rob co-hosted afternoon drive with someone unfamiliar with the music of the great Smokey Robinson. The notorious "millennial comedian" has reemerged with a new storyline. The final performance of A Merry Murder Mystery on Sunday featured a gingerbread house that became the focal point for some audience-participation fun.
Episode 513 - December 14th, 2020
Joe and Katie are intermittent fasting and find it to be an inconvenient way to lose weight. With their own exercise equipment in storage, the alternatives in Gramps house don't seem like a viable option. Joe invites Gramps on the air to understand why he is gifting part of a favorite food stash to Rob. Joe explains why his life is so terrible right now. Rob has several upcoming comedy shows, but the majority of them are on Zoom. When Rob arrived at the club for one recent booking, it was not at all what he was expecting. This leads to Rob and Joe discussing the merits of Wild 'n Out and The Masked Singer.
Episode 512 - December 9th, 2020

This episode is available to premium content subscribers only.
For more information about how you can hear
Rob and Joe bonus shows visit Patreon.com
Episode 511 - November 30th, 2020
Joe recounts his many moves in the past eight years and the number of places from which the show has emanated. Gramps provides some grades and gives very high marks except to one recent guest's appearance. Rob and Joe are full of skepticism regarding the goalie turned placekicker for Vanderbilt. Someone recognizes Joe from his voice. Thanksgiving was different this year in the Robinson house, and Joe puts his foot in his mouth later that day with Katie's family. Rob has a backyard gig with Dr. Gil that surpassed expectations. Rob has an idea about a new Mike Chamberlin theme song, plus last week's topic regarding songs about an animal is revisited. The ongoing discussion about the strange times some NFL games are being played leads to talk about intellectual property and unfair recording contracts.