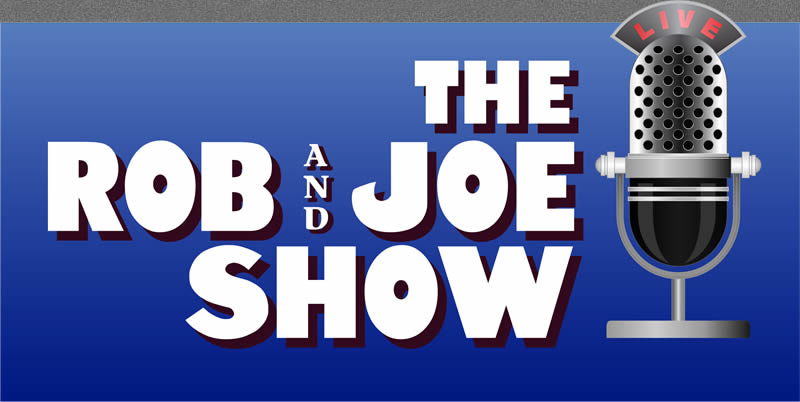 Episode 503 - October 12th, 2020
Joe explains the show's hiatus and mentions some people who chipped-in during a very sorrowful and trying time for the Robinson family. Allison Jenkins has finally received the T-shirt she won six months ago. Another fan makes a request of Joe with a deadline attached and fingers are crossed. Jeremy has produced a jingle for the Purple Power Hour and it's not awful. Joe's was so proud of his colonoscopy that he posted the pictures on his Twitter feed. There is closure to the small cutting board saga when Joe rats-out Katie to the neighbors. Joe visits a brewery and is under the influence of more than just beer.
Episode 502 - October 5th, 2020

This episode is available to premium content subscribers only.
For more information about how you can hear
Rob and Joe bonus shows visit Patreon.com
Episode 501 - September 21st, 2020
Other podcasts are clamoring to piggy-back onto Rob and Joe by becoming the next Gramps story sponsor. Die Laughing returns to the stage with a brand new murder mystery following a 7-month involuntary hiatus. Joe has not planned properly for his colonoscopy and Katie is annoyed by his lack of preparedness. Rob and Joe get notes from the station GM on their first Purple Power Hour. Someone was very upset by Mac's Power Rankings and let Rob and Joe know it. An NFL disagreement reemerges spontaneously and Joe recalls details from the 1980 season and Gramps favorite team. He also remembers a very creative way his father acquired some building materials and fabricated furniture for their home. Joe talks about fast food and highlights a sandwich at a popular chain he visited with Gramps over recently.
Episode 500 - September 15th, 2020
P1 Mac Bergson joins Rob and Joe to renew his power rankings live on the show. While the top spot is as expected, there are plenty of surprises. Following their first Purple Power Hour on 98 Rock, Rob and Joe evaluate the inaugural effort. Rob joins Mickey Cucchiella for a comedy show on September 11th and grudgingly gets roped in to doing extra time for basically no one. Joe offers advice for comedians who want to join the DLP players. Marcus asks Rob to participate in a bit on his WVMT morning show, and Joe worries about the legalities. Joe details the stress of prepping for the pre-game show, and how one listener was making trouble for him. Joe's friend and former landlord is offering a baffling item for sale online. Gramps lost the sponsor for his story segments, and Rob and Joe must speculate about the reason. Rob, Joe and Robby reminisce about the old Baltimore Comedy Factory at Light Street and Lombard and doing shows there with Mickey.
Episode 499 - September 7th, 2020
Once again Rob and Joe brave a barrage of question from the chat room about the murder mystery, hand soap, the quarantine, some hypotheticals, updates on previously covered topics and 98 Rock personnel. Super Bowl picks are submitted from the usual cadre plus some additional guest prognosticators. Jeremy updated his song following Joe's complaints.
Episode 498 - September 7th, 2020

This episode is available to premium content subscribers only.
For more information about how you can hear
Rob and Joe bonus shows visit Patreon.com
Episode 497 - August 31st, 2020
Robby is urging more listeners to become Patreon subscribers and Rob has a brainstorm to give them another incentive. Rob has a crush on an actress who vaguely resembles Katie. Jeremy, grateful for getting some play on the show, still seems completely confused. Joe is back on Twitter and something he posted there rubbed his wife the wrong way. Joe gives a brief review of the new "Bill and Ted" sequel. Joe also has a report on Scott Apple after touching base with him just a few days earlier. Rob and Joe have another broadcasting opportunity, but once again the announcement might be premature. Joe will have a brand new big screen on which to watch the games either way.
Episode 496 - August 24th, 2020
The Woodworth brother's are prolific musicians, but Joe feels one of them consistently falls short. Joe also admits that he's gotten way behind on listening to their podcast Quality Time. Rob and Joe participated in a 98 Rock morning show "happy hour" Zoom call, and while they were pleased with the final product apparently not everyone was. A contingent of DLP representatives travels to Mahoning Township in Pennsylvania for a drive-in movie and the adventure of a lifetime. Erik debuts the single from his upcoming album as promised three weeks ago when Gramps provided his voice for the song live on the show. Joe is not a fan of pranks where the perpetrator is not around to see the result. The likelihood has decreased dramatically that the murder mystery scheduled in just two weeks will actually happen now, and Rob and Joe express their outrage.