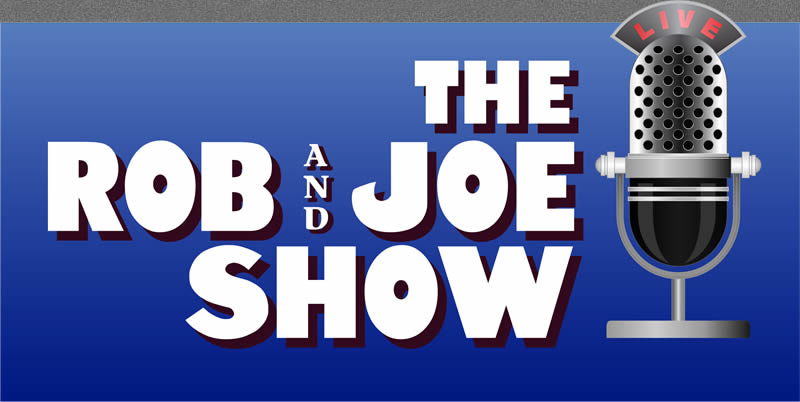 Episode 420 - May 6th, 2019

This episode is available to premium content subscribers only.
For more information about how you can hear
Rob and Joe bonus shows visit Patreon.com
Episode 419 - April 29th, 2019
Rob visits the eye doctor for maybe the first time ever. Robby can't wait to make fun of Joe about an accident he had while shopping for shoes. Katie's bachelorette party happened over the weekend and one of the invited didn't look very tacky. An interesting night at a friend's 30th birthday party reveals the newest target of Joe's special brand of combined ridicule and fascination. A murder mystery over the weekend was a home run performance for an interesting audience at an unusual venue. Robby once again gets called out for his music selections at the show. Rob inquires as to Joe's plan for tanning pre-wedding and drinking at the resort. After being challenged in the chat room, Joe re-tells the story of the "fantasy football expert" from the podcast's early days. Joe has an encounter with some very lazy people using the electric scooters at Wal Mart. Rob meets a super helpful cashier at the Harris Teeter who he believes might be making the other shoppers think he has special needs.
Episode 418 - April 22nd, 2019
There is no Gramps story this week, but Joe shares a conversation he had with his father on the topic. Rob and Joe speculate on who will have the most sex in Mexico. There is a lot of debate over the next murder mystery theme, and Rob reviews some of the ideas. Katie's bachelorette party has a theme that might prevent the ladies from looking their best. Tommy Sinbazo takes extraordinary measure to prevent himself from needing to leave the theater during the new Avengers sequel. Joe is covering the NFL draft for the radio station, so Rob tests his knowledge to see if he is ready for the broadcast.
Episode 417 - April 22nd, 2019

This episode is available to premium content subscribers only.
For more information about how you can hear
Rob and Joe bonus shows visit Patreon.com
Episode 416 - April 15th, 2019
Rob follows-up with his fan (the musician) in Virginia Beach. The now infamous Gramps story from episode 410 continues. Joe is alienating his neighbors. Katie has a harrowing incident on the highway, but many men jumped to her aid. Standing-in playing Rob's part in a show, Joe decided to adopt one of his vices as well. Rob performs at the Improv for a VIP's birthday party which included one interesting performer doing a guest set. Joe misses a benefit for an organization that hits close to home (literally and figuratively) so that he can watch Game of Thrones. Joe doesn't understand all the fuss over Tiger Wood's comeback. Rob's not been feeling well for several days, and he discovers the issue is with his teeth. Marcus has sad news.
Episode 415 - April 8th, 2019
Rob is recovering from an illness probably caused by his heavy travel schedule. Joe is getting a lot of attention by bashing the Orioles' first baseman on Twitter. Joe had to pay a lot of money to the IRS. Rob thinks he's recording a great set on his phone, but someone called and totally botched it for him. Joe meets an acupuncturist with a fascinating story about treating a patient with plantar fasciitis. Following-up on last week's show, Rob wonders what Tommy and Erik might have done if they were left alone in Joe's room in Atlantic City. Rob and Joe share their thoughts on Jeremy Woodworth's best actor award acceptance speech. Rob emceed for Louis CK over the weekend and returns to tell the tale. Joe reports on the baseball game as it occurs during the show and an historic record low. Rob helps a musician fulfill a life-long dream. Robby and Joe's uncle has plans to further his literary career. Rob is a judge for the VA Beach FunnyBone's Clash of the Comics. Restivo is being given a huge platform to prove himself as an entertainer.
Episode 414 - April 1st, 2019
Joe calls Erik to better understand how and why he defiled someone else's hotel room the previous weekend in Atlantic City. Robby, Joe and Katie traveled to West Virginia over the weekend to remember Gramps' dearly departed brother. Joe brings up a sore subject with Katie. While in West Virginia, Joe and Katie attended a charity boxing event where a second cousin was one of the fighters.
Episode 413 - March 25th, 2019
Rob and Joe return from the bachelor weekend and some may not have recovered yet. Joe has gotten very little sleep since Friday, but it was Rob who was the first of many to learn that you shouldn't gamble when you are tired. There's a lot of money riding on Ohio State, but Katie's father eclipses the game with his own free throw demonstration. Not everyone appreciates the murder mystery troupes cruel way of playing Quiplash. Being influenced by others, Joe makes the first of many gambling errors betting on the Maryland/LSU game. Rob on the other hand finally wins when he decides to ignore a suggested parlay. Joe becomes the talk of the poker room by making two critical errors at the table. Meanwhile someone calls Justin's bluff, but not in a card game. Many legendary stories were repeated over the weekend, Rob highlights one. Former landlord Dave contends with an elevator and a woman with an interesting career. Joe has an awkward moment with one of the hotel staff. Rob's sleep is disturbed by people trying to get into his room. Later he offers a beer to a stranger and immediately realizes this was a mistake. Katie is going to a housewarming party and is on the fence about whether or not she wants Joe to accompany her.
Episode 412 - March 18th, 2019
Rob has car trouble. Joe tries to make a rule of not littering, but rules are meant to be broken. Rob can't seem to break up will his long time cell service provider. Joe doesn't understand the term "cut-off" in relation to driving. Rob has difficulty with a new joke and a celebrity chef reference. Joe attends a St. Patrick's Day which includes an unusual float. With the bachelor party in Atlantic City this weekend, Joe speculates about how he might gamble his money. Discussing the acts performing there over the weekend, Rob has a Scott Apple moment. Rob calls BS on a comment during the Top Chef finale. He is also watching a lot of rock climbing documentaries. Joe has a new fill-in gig on 98 Rock, which opens up a NCAA tournament bracket discussion.
Episode 411 - March 18th, 2019

This episode is available to premium content subscribers only.
For more information about how you can hear
Rob and Joe bonus shows visit Patreon.com
Episode 410 - March 11th, 2019
Gramps receives an unconventional offer for insurance premium payments. This evolves into stories about getting propositioned on the request line. Rob and Joe have issues with Lyft; one gets an clueless driver and the other can't work the app. Rob reports on his adventures in Tacoma where marijuana is legal. Even though Joe buys Katie jewelry during the show, he still manages to piss her off during a discussion about the upcoming nuptials. Joe and Katie review Captain Marvel and this leads to ranking the hottest female superheroes on film. Rob wonders how people who have dangerous hobbies buy life insurance. Katie ends the show with
a "feel-good" story.
Episode 409 - March 4th, 2019
Joe has a loud, confrontational encounter in a movie theater. The new 90s murder mystery debuted in Annapolis, and Gramps assembled an interesting group for dinner before the show. Someone close to the show posts a review on iTunes flattering (or perhaps mocking) Robby. Joe finds himself in a lose-lose situation when a friend decides to write her own murder mystery for Die Laughing Productions. Last week the troupe did a show for the most noisy, drunk audience ever. Marcus has a new radio moniker and, in related news, a new gig. Joe gets questioned about something he revealed on the bonus show that is now public knowledge. Rob wonders about the legacy of Michael Jackson in light of the new documentary.
Episode 408 - February 18th, 2019
Following a Sunday rehearsal for the newest murder mystery, Rob and Joe decide to record some of the show a day early. Erik Woodworth and Oscar also join the show. Erik loved the phone call on last week's show, and has something new to share from the mind of Chris Restivo. The man behind Five Plated Coasters writes the show with regrets and news about the future of the business. Rob asks Joe to share his feelings about Erik's brother Jeremy. Rob expresses concern that Erik will exhibit some of his outlandish behavior at a new, and more conservative, venue for the murder mystery. Joe and Katie break down their thoughts on the Oscar nominees with movie critic Mara Reinstein. Rob makes bad decision after bad decision while doing a bit during intermission at the Valentine's Day murder mystery. This turns into a conversation about "accidental" texts. Rob continues to have trouble with greeting cards when he goes shopping for Valentine's Day. Joe plans a romantic day starting with flowers from Target and later an over-packed restaurant. Now he's struggling over what to get for her birthday.
Episode 407 - February 11th, 2019
Joe is making Valentines Day plans, but Rob is not. Die Laughing Productions celebrated Justin Schlegel's birthday by presenting him with a very special card. Show fixated on some older couples who seemed to be uneasy with some of the blue humor in the murder mystery show over the weekend. A local comic seems to fancy himself a musician; or does he? A Rob and Joe fan is selling "Five Plated" products and guess who is not happy about it. Rob forces himself to finish the two movies he wasn't enjoying, and episode #404 of the show from when he was absent. Joe and Rob have created the wrong culture when it comes to Die Laughing Production and can't go back now. Rob's two best friends meet each other for the first time. Rob complains about the Grammys. Joe discusses music today versus what was popular when he was young a long, long time ago.
Episode 406 - February 11th, 2019

This episode is available to premium content subscribers only.
For more information about how you can hear
Rob and Joe bonus shows visit Patreon.com